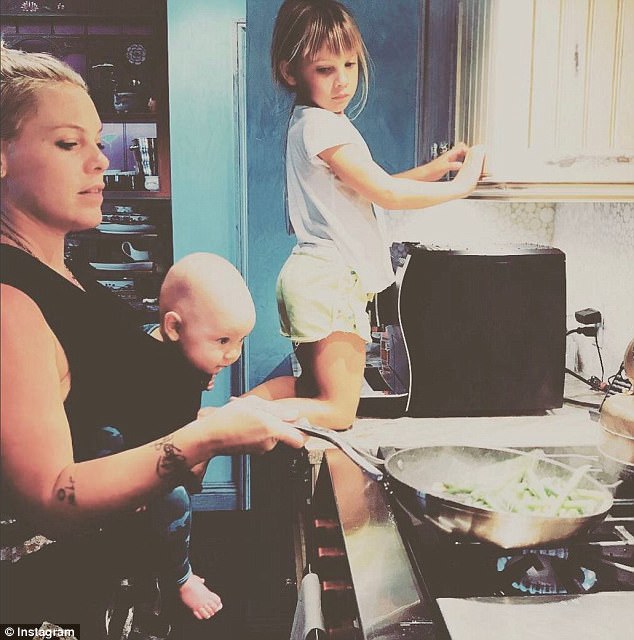 Pink posted this photo on instagram and has been slammed with comments about her son being in danger as he is close to the stove.
We have all been there!! What mum hasn't struggled her way though the late afternoon - early evening witching hour when your baby is unsettled and wants to be held, but you also have to get dinner on the table as quickly as possible to avoid the wheels completely falling off.
I don't look at this photo and see a baby in danger, i see a mum doing her best to get food on the table and ensure her kids are happy aswell. I think its brilliant that shes taking the time to make a home cooked meal and look how interested both of her kids are - monkey see, monkey do. Great skills being passed on to the next generation!!!
I cook most nights with my 1 year old daughter on my hip, all she wants is to be held and its always when i'm cooking dinner.
I'm sure Pink thought about the danger of carrying Jameson in the front pack while standing at the stove, i'm also sure that every mum is subconsciously thinking about the safety of her children in all situations, it just our instinct.
Part of the reason i did the $100 challenge was to show how easy it is to whip up a dinner meal, with a baby on your hip if needed and for those really tough evenings you can pull a meal out of the freezer and get it on the table with little fuss :)
And hey, if Pink can do it, so can all of you ;)